Employee Benefits and Insurance
Adding Value to Attract & Retain
We make it easy for you to provide the following employee benefits to your employees through our affiliate company, GTM Employment Benefits LLC.* These added protections will not only help you attract and retain the best staff, but will also help enhance the overall quality of your employer/employee relationships.
Workers' Compensation & Disability
GTM offers Workers' Compensation insurance and New York Disability insurance for our clients' convenience.
Business Owners Policy (BOP)
A new BOP provides custom coverage easily tailored to your specific business needs. When placed in conjunction with your Workers' Compensation program, discounted pricing may be available. Please contact us for more information.
Health, Dental, and Vision Insurance
For businesses with two or more employees, GTM has partnered with numerous health insurance partners to offer low cost health insurance, health reimbursement arrangements, and dental and vision packages.
Long-Term Disability
Having long-term disability helps protect your workers in the case of injury or illness. GTM's competitive packages accommodate any business' budget and provide a valuable benefit to your employees.
Health Reimbursement Arrangements (HRA)
HRAs are a creative option with a range of budgets, for employers who want to offer a contribution program to their employee for health-related expenses. HRAs allow employees and employers to take advantage of the lower premiums offered by high-deductible major medical plans and keep health costs under control.
Life Insurance
An employer-sponsored life insurance plan takes the headaches away from an employee who normally would have to independently purchase a high cost plan with stringent applicant requirements. GTM offers a variety of life insurance coverage benefits, flexible to the needs of you and your employees.
Flexible Spending Accounts (FSA)
Flex Plans are one of the best and most inexpensive plans that you can offer to your employees. This plan allows an employee to choose how much money they will spend on medical, dependent care, and health insurance, saving them anywhere from 30% to 40% on their out of pocket expenses. Funds are taken through payroll on a pre-tax basis so both the employer and the employee save on taxes; employers save the entire 7.65% on FICA.
Employee Dishonesty Insurance
There is an affordable way to insulate yourself from any financial loss that may result from an employee's dishonest actions by providing a fidelity bond (also called "employee dishonesty insurance"). A fidelity bond protects an employer from theft – cash, checkbook, credit cards, or any property, including your clients' property – by covering the employer for any such losses.
Learn More
Voluntary Supplemental Benefits
Offering voluntary benefits provides employees an incentive to stay with your company, and provides the opportunity to lower your payroll taxes with each enrolled employee. Benefits that are available include short-term disability, critical illness, cancer, accident, and life insurance. Ask about the free WellCard and college tuition reimbursement program!
Health Savings Account (HSA)
The Health Savings Account allows employees to use pre-tax dollars to pay for medical bill not covered by their insurance including dental and optical care, insurance deductibles, co-pays and prescription drugs. Employees decide how much of their salary should be set aside before taxes and this amount is automatically deducted from their paycheck and deposited in their HSA account, thereby increasing employee take-home pay and decreasing employer payroll taxes.
COBRA (Consolidated Omnibus Budget Reconciliation Act of 1985)
Requires employers to offer continued health care coverage to employees and their dependents that are losing their health coverage under the employer plan. Through GTM's partner, Ulster Insurance Services, all the required steps, services, and notifications will be done to avoid any potential and costly fines.
Obtain a no obligation Employee Benefits quote or Health Insurance quote:
Request a Certificate of Insurance
You can also email us or call (518) 373-4111.
*GTM Employment Benefits, LLC is a licensed broker in AZ, CA, CO, CT, DC, DE, FL, GA, IL, KS, LA, MA, MD, ME, MI, MN, MS, NC, NH, NJ, NY, PA, SC, TX, UT, VA, VT, WI, WV.
Need Help?

 Call 518-373-4111
Refer a business and earn rewards
Free Download: The Complete Guide to Small Business Payroll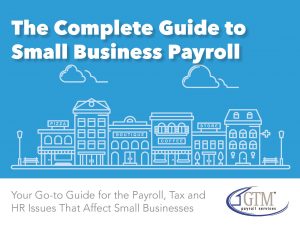 Stay up to date with our newsletter