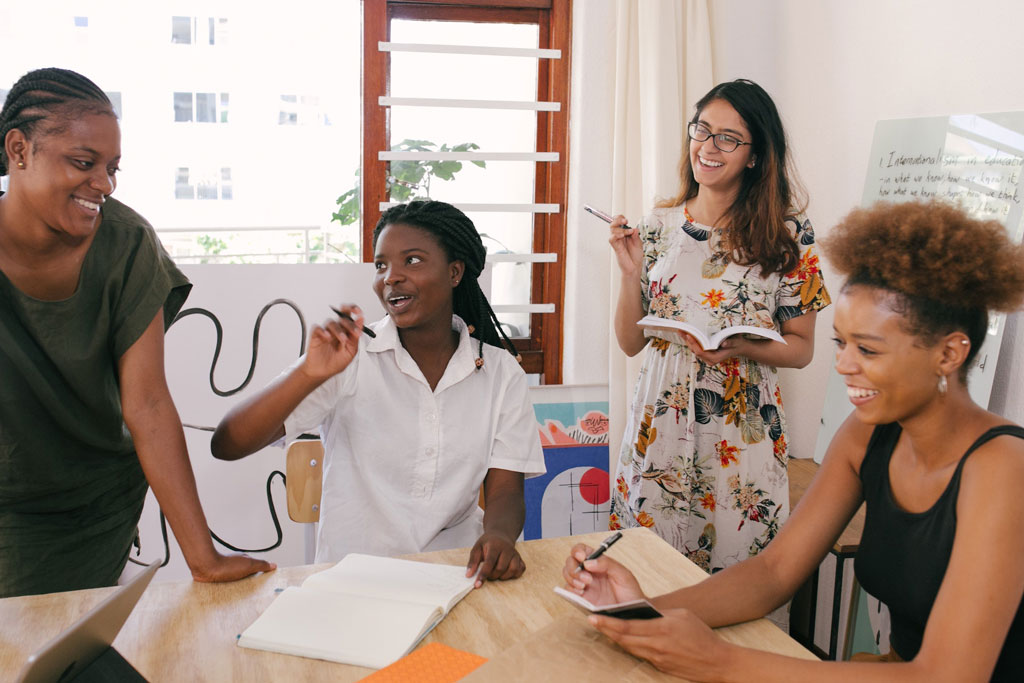 A positive work environment is crucial to the success of your company, as it impacts your recruiting and retention efforts.
Defined as a "workplace where there is trust, cooperation, safety, risk-taking support, accountability, and equity," your organization should strive for a healthy, positive, and beneficial work environment equipped for your employees to thrive.
This differentiation is more important than ever in today's tight labor market. Establishing a continuous conversation with employees so you have a deep understanding of your unique culture is proven to help achieve higher referral rates, lower employee turnover, and double the employee engagement levels.
Positive Work Environments Drive Productivity
Studies show that employees in positive work environments are more productive and engaged than those in cut-throat, high-stress work environments.
Not only do those types of environments lead to disengaged workers, but also workplace accidents including those caused by stress.
According to the American Psychological Association, more than 550 million workdays are lost each year due to stress, and up to 80 percent of workplace accidents are attributed to stress: an added statistic that proves just how important a work environment is to employees' mental and physical health.
Enthusiastically engaged employees and increased productivity in the office are a win-win for both employees and employers.
Tips to Improve Your Organization's Work Environment
Commit to valuing your employees
Create bonds within your workplace, and outside through work socials and company outings
Be open to changes and be understanding of them
Set up check-ins with employees
Create a flexible work environment – including work from home options
Ask for employee feedback, and implement changes
How GTM Payroll Services Creates a Positive Work Environment
At GTM Payroll Services, we value the connection between our employees and creating an environment of trust and support.
To help create bonds between our employees, we plan social outings, monthly happy hours, holiday parties, summer events, celebration lunches, and award our teams when we reach company-wide goals.
GTM has created a "Fun Squad" to help create a fun, positive, and rewarding environment for employees. For example, we all enjoyed bomb pops on National Bomb Pop Day and created theme days for employees during National Payroll Week. These seemingly small initiatives make a big impact on the overall work culture and environment.
GTM also uses Share & Perform, part of the isolved HCM platform for employee engagement. This includes features designed to reward innovation and success, recognize top employees, and praise co-workers for their efforts. It's an ideal way to engage your workforce in a more effective way.
The results? GTM Payroll has been named a Times Union Top Workplace for 10 straight years, which is based on employee feedback on the drivers of engaged cultures such as alignment, execution, connection, and more that contribute to a company's success. We've also been named a Best Place to Work by The Business Review 12 times. All while the company continues to grow.
What Makes the GTM Payroll Work Environment Special
We asked some of our employees what makes the GTM work environment special, and what can other businesses implement.
Here is what they had to say about our work environment…
A Family Feel
"My favorite aspect of GTM's work environment is that we are a family here. I love that when I come to work, I know that I have an entire team of people that always have my back and are like having a second family. The fact that we can laugh, share, and genuinely enjoy ourselves while creating internal and external relationships and making strides for this company, is monumental."
"My favorite aspect of GTM's work environment is the friendliness and teamwork of everyone here! I love how we all work together and have fun while doing it!"
"I have formed many great bonds both in and outside of work with my co-workers. It makes coming to work that much better!"
Value Driven Work
"My favorite aspect is our people and how hard our employees work. We stay focused on our core values and are always looking for a better way; whether that means fixing an internal process or making it easier for clients to work with us. We are open to and welcome feedback both internally and from clients"
Managers Prioritizes Employee Success
"Our managers care about their employees and want to see them succeed and we strive to identify and work off of employee's strengths."
And ideas for your organization…
Adaptability
"Other businesses should implement the level of adaptability that GTM has. The dynamics at GTM are consistently adapting to societal and technological change, while also providing more internally and externally beneficial changes to improve the systems within. The procedures within any company will always need updating that is consistent with the changing times and GTM seems open to the possibilities that are brought to it, while still maintaining its core values. This is something that makes GTM, unlike any company I have ever known."
Positive Communication
"Other businesses could implement the Rockefeller concept that GTM follows. The transparency of the growth of the company, along with the communication and quarterly goals help make all feel like they are contributing to the overall growth and success of the company"
Transparency
"A sense of transparency. Our meeting structures work to keep communication open with employees through our daily huddles and 1:1s. As a whole, employees are well informed about how the company is doing and our quarterly themes keep us all focused on our team goals which directly impact the company goals."
Celebrating Employees
"Other businesses could implement GTMs processes of promoting from within. GTM is great when it comes to promoting an employee to a higher position in the company rather than just hiring from outside. This keeps employees with years of experience in the field as well as with GTM, at GTM."
For more tips check out our blog: Can You Improve Employee Retention by Offering What They Want?