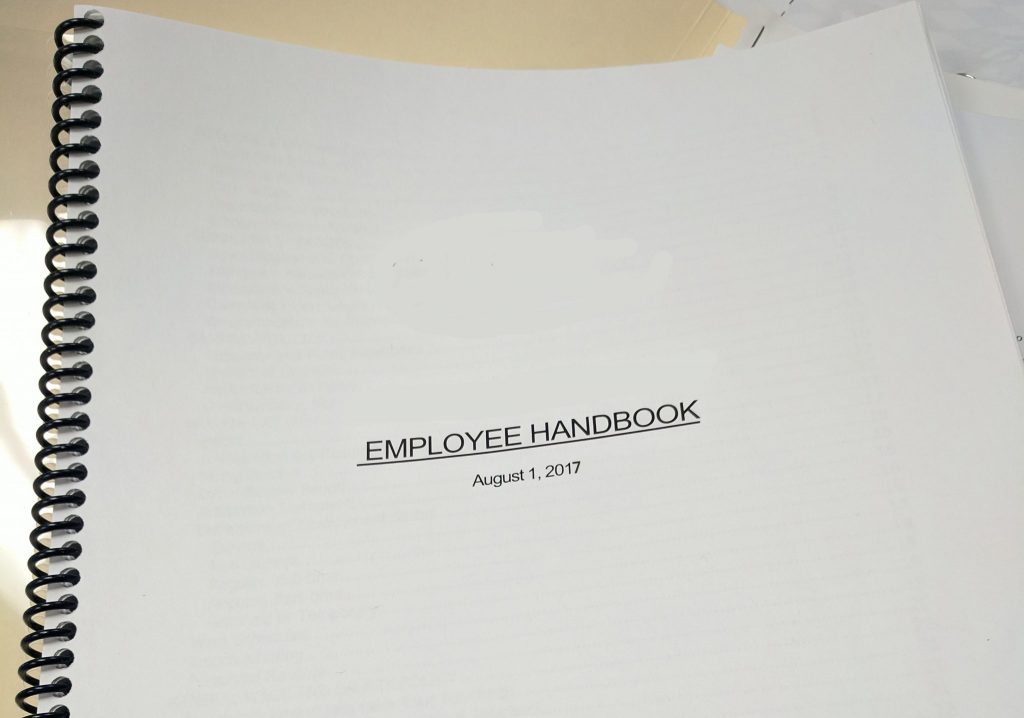 In general, all businesses should create and update an employee handbook that clearly defines workforce policies and expectations. A handbook can resolve disputes before they occur and protect both the employer and employee from potential litigation.
Here are ten real-life examples that may seem familiar or could occur in your place of business, and demonstrate why you need an employee handbook.
Not Dressed for Success
Several of a company's employees dress a little more casual than they should. A couple of employees have been wearing t-shirts and one worker has begun walking around without shoes on.
What's That Smell?
An employee's perfume was bothering another employee who sat near her, who then brought up the issue with their HR manager. Another employee complained to HR about staff heating up fish in the lunchroom, and the resulting smell that carried throughout the office.
Working Overtime
A lucrative, critical project required an employee to work 5-6 hours of overtime each week for a few weeks. After the project's completion, the employee continued to work several hours of overtime each week. These extra hours were unnecessary and were being used without her supervisor's approval.
Solicitation Frustration
An employee's daughter was selling Girl Scout cookies, and the employee told his co-workers about it in the hopes of making some cookie sales. Another employee had previously tried to get his co-workers to buy candy bars to support his son's little league, but was told by HR that the company had a no solicitation policy and he was not allowed to proceed. After he found out about the Girl Scout cookies being sold, he complained to HR.
Where There's Smoke
A company's receptionist noticed an employee smoking a cigarette just outside the front door. She politely reminded the employee about the company's smoke-free policy, but the employee complained, insisting he was far enough away from the door to cause any harm.
Selfie Security
A company's HR manager, off work hours, came across a selfie posted on social media by an employee. The photo not only showed the employee at her desk in the office, but sensitive materials were visible in the background.
Leave it at Home
An employee talked often about his gun ownership, and one day another employee overheard him say that he brought a gun to work that day in his car, making the other employee feel very uncomfortable.
Accidents Will Happen
A company's parking lot became very slick with ice one winter morning. Despite the company's efforts to make the lot and walkways safe, an employee slipped on the ice and hurt her knee. She reported the incident to her manager, who was relatively new to the company and was unsure of the process when an employee became injured on the job.
No Offense?
On a "casual Friday" in the office, one employee wore a t-shirt with an obscene gesture on it. While most of the other staff found it amusing, one employee pointed it out to the HR manager.
Snowed In
A big snowstorm caused power outages and road closures across a company's entire metro area. Many employees could not get to work, while others did not feel safe driving on the roads. The staff needed to know their options regarding coming in to work and whether or not they would be paid. With no policy in place, some managers had employees use vacation time, others paid them regardless of whether or not they came to work, and some didn't pay employees who didn't make it in.
Don't be left exposed to lawsuits and labor issues because of a lack of an employee handbook. See how GTM can cost-effectively customize a handbook for your business.
Learn more about our employee handbook service, and contact us at (518) 373-4111 for more information.