Guilderland Chamber Payroll Affinity Program

Looking to Outsource Your Payroll? GTM Payroll Services has solutions for businesses of all sizes.
GTM has been leading the way in the Capital District since 1991 as a nationwide leader in payroll, time and labor management, insurance and human resources for both business and household employers. Because of this excellent reputation, the Guilderland Chamber has endorsed GTM to be its preferred payroll partner for Chamber members.
What does this mean for Chamber Members?
As a result of this partnership, chamber members receive discounted pricing for payroll and tax services at GTM. By signing with GTM, members will save money while growing their business. Contact GTM representative Billy Dallas today to learn more about this valuable benefit provided by the Guilderland Chamber.
Business Services Available at GTM
PAYROLL – Personally tailored payroll and tax solutions including consulting services, management tools, and reports; employee self-service; choice of payroll entry methods; dedicated client service representative
TAX FILING – Calculation, payment, filing of federal, state and local taxes; compliance with EFTPS filing requirements; electronic tax deposits
TIME & LABOR MANAGEMENT – Improve profit margins by reducing the cost of administration and labor; track employee absences and manage leave requests; automatically calculate time off and accruals
INSURANCE SERVICES – Workers' Compensation (with Pay-As-You-Go payment plan); Enhanced Disability plans
HCM & HRIS SOLUTIONS – Manage benefits and all other relevant HR information in one convenient, centralized location, dramatically reducing your workload.
HUMAN RESOURCE SERVICES – Expert advice, information, and assistance to help effectively and legally handle day-to-day operational and employee-relations issues.
Flexible Solutions
Whether you are hiring your first employee or employing thousands, GTM offers businesses an outsourcing solution that fits. We pride ourselves on taking time to understand your specific business's needs so we can provide you the best services possible. Our clients benefit from more resources and tools, while still saving time and money over competitors' offerings.
Get started today!
Contact Billy Dallas, Account Executive
(518) 836-2555; [email protected]
Need Help?

 Call 518-373-4111
Refer a business and earn rewards
Free Download: The Complete Guide to Small Business Payroll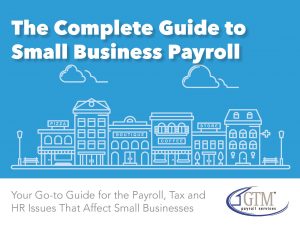 Stay up to date with our newsletter