Work Opportunity Tax Credit (WOTC)
Could your business use some extra income? The Work Opportunity Tax Credit (WOTC) is a Federal tax credit available to employers who hire individuals from eligible target groups with significant barriers to employment. Employers can earn a tax credit of between $1,200 and $9,600 per employee, depending on the target group of the new employee and the number of hours worked in the first year. Employees must work at least 120 hours in the first year of employment to receive the tax credit.
Eligibility is determined by hiring employees from the following groups:
• Veterans
• Temporary Assistance for Needy Families (TANF) Recipients
• SNAP (food stamp) Recipients
• Designated Community Residents
• Vocational Rehabilitation Referral
• Ex-Felons
• Supplemental Security Income Recipients
• Summer Youth Employees
View more details about these groups here.
To see a case study example illustrating how much money you could receive, click here.
How GTM Will Help
Our process is simple – we provide a link to an online portal where your employees answer a few questions to determine eligibility. We then file your claim with the IRS and state agencies. Once the claim is processed, you'll be notified how much credit you will receive, and those credits will be applied to your next tax returns.
Clients will have access to real-time data such as credits certified, pending credits, and year-to-date screening status. This data provides employers with real-time insights and analytics to assist in making important hiring decisions.
Get started now – for clients, contact your sales rep or Account Manager and they'll provide the details. Want to become a client? Contact us for more information at (518) 373-4111 or get a free payroll quote here.
Need Help?

 Call 518-373-4111
Refer a business and earn rewards
Free Download: The Complete Guide to Small Business Payroll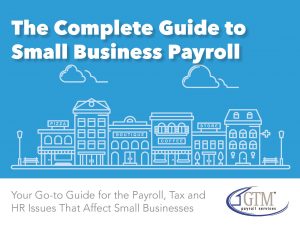 Stay up to date with our newsletter