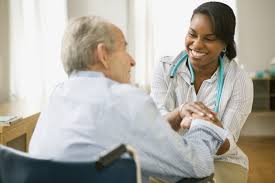 On August 21, 2015, the U.S. Court of Appeals ruled in favor of the Department of Labor (DOL) in allowing it to greatly narrow the home health care and companionship services exemption under the federal Fair Labor Standards Act (FLSA). The Home Care Final Rule was slated to go into effect in January 2015, but a federal judge struck down its two main provisions, thus delaying its implementation. The DOL appealed and the Court of Appeals has now found in their favor.
The Final Rule will make almost 2 million home care workers who were previously classified as exempt eligible for minimum wage and overtime under the FLSA. In addition to narrowing the definition of "companionship services" for the exemption to those who spend no more than 20% of their time providing actual care, such as feeding and bathing, third party employers of direct care workers are no longer permitted to claim the exemption for companionship services or live-in domestic service employees; their employees will have to be paid minimum wages and overtime even if the services rendered would otherwise meet the home care criteria for exemption.
What Now?
Overtime Pay:  Third-party employers of companionship and live-in care employees may no longer claim the FLSA's companionship exemption. Companionship employees – such as home care aides – must now be paid 1½ times their regular pay rate for each hour worked over 40 in any workweek.
Timing:  The DOL has not indicated whether a six-month period of permissible non-compliance will begin to run now, or whether these rules will instead take effect immediately. For now, employers should prepare to change their overtime pay practices as soon as possible.
Strategies:  Employers may want to prepare for the new overtime expenses by adjusting schedules to minimize the number of employees working more than 40 hours in a workweek. This could also mean hiring additional staff to cover the overtime hours worked by current employees.
GTM will continue to provide updates as they become available. For more information on how GTM helps families stay compliant with labor and wage laws, contact us at (888) 432-7972.