Nanny Payroll & Tax Service
You diligently chose the right nanny for your family, someone who is conscientious, competent, and caring. Choose wisely again – select a nanny payroll service provider who can manage all the administrative tasks associated with being a household employer like paying your employee, withholding and remitting taxes, and following tax, wage, and labor laws.
GTM's nanny payroll service features our professional expertise in tax compliance, household payroll processing, insurance, and an unparalleled level of customer support.
Understanding Nanny Taxes
You will likely need to pay nanny taxes if you employ someone to work in your home and they make $2,600 or more in gross wages in 2023 (or $2,400 in 2022). Household employees may include:
Full- and part-time nannies (live-in and live-out)
After-school nannies and tutors
Seasonal and summer nannies
Learning pod or home education teachers
Specialty caregivers for children with special needs
Babysitters with regular hours/schedule
Nanny taxes is the collective term used for the employer taxes a family needs to pay when they have a household employee. A family will owe Social Security and Medicare taxes (commonly called FICA taxes) as well as federal and state unemployment taxes while withholding their employee's share of FICA taxes. Withholding income taxes is optional but a good idea so your household employee does not owe their entire tax obligation when they file their tax return.
Using a Nanny Payroll Service
The IRS estimates that it will take at least 60 hours each year to manage your nanny payroll and tax obligations. Your time is better spent doing something – anything else – than figuring out nanny taxes. Get nanny payroll wrong – even if your mistakes are unintentional – and you could face significant fines and penalties.
That is why you should leave the hassles and risks of nanny payroll and taxes to the household employment experts.
With GTM's nanny payroll service, payroll and tax professionals will manage all of the wage, tax, and labor rules that come with every childcare situation.
Features and Benefits of GTM's Nanny Payroll Service
Let us simplify your life with a complete solution for all your nanny payroll needs including:
Free direct deposit that makes payday hassle-free for you and your employee
Tax withholdings are calculated for you
State and federal taxes filed on time, every time – 100% guaranteed *
Online, self-onboarding walks your new hire seamlessly through the employee setup process
Easily make adjustments online at your convenience or contact our client support team by phone, email, or web chat
Our team of payroll specialists, CPAs, and insurance brokers will help you stay compliant with ever-changing tax, wage, and labor laws so you stay legal, avoid fines, and provide protection for your family and nanny
* OUR GUARANTEE: If you receive a notice from the IRS, or any other tax agency, based on a filing that GTM Payroll Services made, we'll work with the agency on your behalf to resolve the issue. If we're at fault, we'll pay all the associated penalties and fines.
More Than Just a Nanny Payroll Service
GTM Payroll Services is more than a nanny payroll and tax service. We are a "one call for all" your household employment needs including workers' compensation and employee benefits.
A workers' compensation policy may be required in your state. Not having the proper coverage can result in tens of thousands of dollars in fines.
But we have you covered.
Our insurance team will obtain a policy for you and manage any audits and invoices.
You can attract the best candidates and retain your top employees by offering benefits. We offer health reimbursement accounts, retirement plans, and more. All can be added to your nanny payroll service to make it easy for you.
Free Consultation
On your household
employment
situation
Free Consultation
On your household
employment
situation
Watch Our Video: Your Household Payroll and Nanny Taxes Made Easy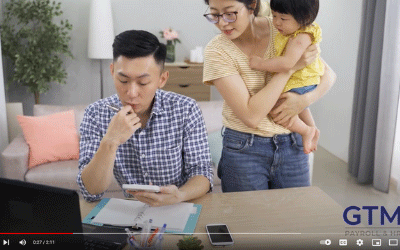 Download: EasyPay for Nanny Tax & Payroll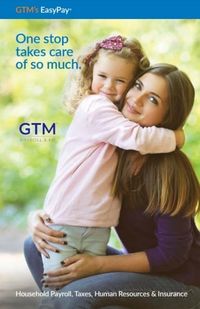 Schedule a Call
Schedule a time to talk and we'll call you.

Chat with Us
Chat with an expert during business hours.

Schedule a Call
Schedule a time to talk and we'll call you.

Chat with Us
Chat with an expert during business hours.