Being a household employer is not easy. Managing your employee can get tricky and labor laws across the country are getting more and more complex. Even unintentional violations of minimum wage and overtime rules, paid leave requirements, domestic workers' bill of rights, termination procedures, and more can lead to employee lawsuits and thousands of dollars in back pay, fines, and penalties.
It is more important than ever for families to be protected with proper employment practices.
GTM Payroll Services can help.
EasyPay® HR Platinum – created exclusively for high-net-worth families and led by a PHR-certified HR professional – can help mitigate your risks and give you peace of mind knowing your household employment is being managed for you … the right way.
With EasyPay HR Platinum, we have combined our comprehensive payroll and tax services with employment best practice guidance and labor law compliance.
This is what families require today to get expert help with household employment, make sense of ever-changing labor and domestic worker protection laws, and ensure obligations as household employers are met in an increasingly complex labor environment.
Download Overview of EasyPay HR Platinum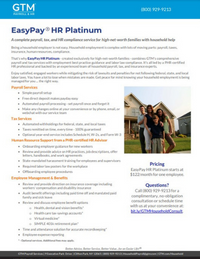 Features and Benefits of EasyPay HR Platinum
EasyPay HR Platinum
Streamlined payroll with free direct deposit and easy online updates

Automated payroll withholdings

Taxes filed on time, every time – 100% guaranteed *

Access to secure client portal via web and mobile devices

Self-service employee portal with access to paystubs and W-2

Concierge-level customer service with unlimited support calls, emails, and live chats

One year of HomePunch™ time tracking at no charge

Review of insurance coverage including workers' compensation and disability insurance

Guidance for onboarding new employees

Review and advice on HR practices, job descriptions, offer letters, handbooks, and work agreements

State-mandated harassment training for employees and supervisors

Required labor law posters for the workplace

Audit of benefit offerings including paid time off and mandated paid family and sick leave

Review and discussion of employee benefit options** (including health, dental, and vision benefits; health care tax-savings accounts; and retirement plans)

Offboarding of employees

Employee expense reporting
* Our GUARANTEE:  If you receive a notice from the IRS, or any other tax agency, based on a filing that GTM Payroll Services made, we will work with the agency on your behalf to resolve the issue. If we are at fault, we'll pay all the associated penalties and fines.
* * Optional services. Additional fees may apply.
Download Overview of Household HR Concierge Service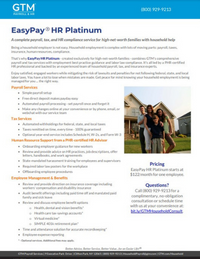 Reviews from Real Clients of our Nanny Payroll and Tax Services
Credentials and Certifications
Our household employment experts are certified payroll professionals by the American Payroll Association.
GTM is the only SOC 1 compliant, independent household payroll service bureau. Developed by the American Institute of Certified Public Accountants (AICPA), a SOC 1 audit is conducted by a third-party auditor to validate that a service organization's key internal compliance and information security controls are operating effectively. It is considered the industry standard for evaluating, testing, and reporting on these controls and shows a firm's commitment to client information security.

Schedule a Call
Schedule a time to talk and we'll call you.

Chat with Us
Chat with an expert during business hours.

Schedule a Call
Schedule a time to talk and we'll call you.

Chat with Us
Chat with an expert during business hours.