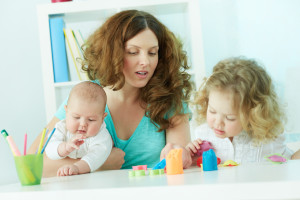 A work agreement benefits both the employer and nanny; it helps establish clear standards, rules, and procedures for the household and for the job. From listing the hours the nanny is expected to work and what his or her salary is, to explaining what a nanny must do if inclement weather prevents him or her from traveling to work, even to defining if the nanny should be taking meals with the children—it is all specified within the work agreement. No matter is too small, because it all goes to one thing—the smooth operation of your household. This is how you set the stage for success in your employment.
There are many pertinent reasons why you should develop, maintain (i.e., update as needed), and enforce a work agreement.
1.  A written work agreement helps to ensure the employment of a particularly desirable employee. It protects an employer's confidential information. If a candidate does not want to join you in developing a work agreement or does not wish to sign one that has been developed, red flags should appear immediately. You need to think: why does this nanny not want to enter into an agreement that details his or her job? The actual existence of a work agreement acts as a tool for you to target the best candidates—and discount those who are disagreeable.
2.  The work agreement is a cooperative endeavor, ideally to be developed (and revised) together (employer with employee). It details:
the nanny's job, including establishing a term of employment (e.g., the nanny job may be for a one-year term, with a date to review the nanny's performance, the work agreement, and the possible extension of the employment to another year);
your expectations (spell out the nanny's duties—be specific and include important considerations to your household, such as protecting the confidential information contained within the home);
the employee's expectations;
household procedures and instructions the employee will use daily in the job; and,
the employees compensation and benefits.
3.  Written work agreements must meet the needs of all parties involved. It is even feasible to use a written work agreement to help determine whether an employee may be terminated without good cause and possibly on short notice (i.e., at-will employment). Use it as a litmus test, checking if the nanny did the tasks described in the work agreement, in the method described in the work agreement, and in the time frame specified in the work agreement.
4.  While compensation and benefits should be included in the work agreement, be mindful that the work agreement is an employment contract, and you, as the employer, must abide by it. Therefore, review the compensation and benefits wording to avoid any potential back pay liability.
Get more information and download a free nanny contract template. here. Contact us at (800) 929-9213 with any questions.