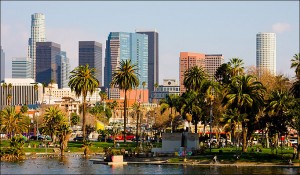 The second largest city in the country voted yesterday to increase wages for its lowest-paid workers to $15 an hour by 2020. The Los Angeles minimum wage increase was passed by a 14-1 vote in the City Council. Other major cities to pass minimum wage increases recently include San Francisco, Seattle, and Chicago. The increase from the current California state minimum of $9 an hour will take place over five years, rising to $10.50 in July of 2016, then to $12 in 2017, $13.25 in 2018, and $14.25 in 2019. Businesses with fewer than 25 employees will have an extra year to carry out the plan. Beginning in 2022, Los Angeles' minimum wage would continue to increase annually based on the Consumer Price Index averaged over the previous 20 years. According to the Economic Roundtable, almost half of the workers in L.A. currently earn less than $15 an hour.
Household employers living in Los Angeles now have several changes to consider. On July 1st, California's new paid sick leave law takes effect, requiring all employers to provide paid sick days for their employees. And now the minimum wage will be increasing every July starting in 2016.
For more information about these new laws or how GTM helps household employers stay up to date and compliant with employment and tax laws, contact us at (888) 432-7972.