Hiring a nanny will be one of the most important decisions you'll make as a parent. You're not only trusting this caregiver to look after your children, but you're also bringing someone into your home for 20, 40, or maybe even more hours a week. Even though you may not have a lot of time – after work and family obligations – to put into hiring a nanny, this is a decision you'll want to get right.
Below we lay out the steps on how to hire a nanny that will take the worries out of finding the right match for your family and the stress of the hiring process.
Don't Rush the Nanny Hiring Process
In a recent survey conducted by GTM Payroll Services, nearly half of families that have hired a nanny said they spent 20 hours or more on the hiring process. Since you're looking for someone to care for your children, you'll want to take your time and make the right decision. Prepare to spend four to eight weeks on finding a nanny. Don't rush it as you'll bring on board a less-than-ideal candidate and you'll be back searching for a new nanny.
Determine the Coverage You Need
Are you hiring a full-time nanny to care for your children while you're at work during the week? Or do you just need someone part-time? How much will your nanny's schedule fluctuate (coming in early or staying late)? Will you need care on nights and weekends? Will your nanny live in your home? You'll need answers to these questions before going any further.
What Are You Seeking in a Nanny?
You'll come across all types of caregivers in your search with varied experiences, education, and skills so be specific in what you want in a nanny. Some considerations include:
Knowledge of basic first aid and CPR
Background in early childhood education
College degree
Years of experience
Non-smoker
Driver's license and clean driving record
Fluent in a second language
Skilled in music or art
List other Nanny Duties and Expectations
Your caregiver will likely prepare meals for your children and clean up from their day. That's standard and can be spelled out in a work agreement. What else do you need your nanny to do? Do you expect them to do laundry, clean the house, and/or prepare dinner? If so, you may be seeking a nanny/housekeeper. Qualified caregivers may disregard your job opening if those additional duties are attached to the position.
Establish a Budget
The more skills, education, and experience you want in the nanny, the more you should be willing to pay in an hourly rate. The Nanny Salary & Benefits Survey by the International Nanny Association can be helpful in determining how much to offer. Besides qualifications you'll also want to factor in:
Location – like most jobs, working in an area with a greater cost of living means a higher hourly rate
How many children the nanny will care for
Ages of your children – nannies may ask for higher pay to look after infants and toddlers as opposed to school-aged children who are more independent and may require less supervision
Paying time-and-a-half for overtime hours – required by law
Cost of backup care when your nanny takes time off
Benefits such as health insurance
Year-end bonus and potential raises after performance reviews
Employment taxes – Social Security, Medicare, and Unemployment
Purchasing a worker's compensation policy if required by law in your state
Use GTM's Nanny Tax Calculator to figure out your employer tax responsibility.
Compose a Detailed Nanny Job Description
Now it's time to put your nanny qualifications, duties, expectations, pay rate, and more in writing. Include:
Summary of functions (essential and non-essential)
Qualities you want in a nanny
Education level
Desired years of childcare experience
Any special skills like art, music, or a second language
Full- or part-time, live-in or live-out
Hours and schedule (you must pay your nanny by the hour and not a salary)
Pay rate
Benefits and paid time off
Location of job
Ages, number, and genders of your children
If it's a temporary position, include the end date of employment. Now is also a good time to consider your "must-haves" and "nice-to-haves." Many candidates won't check all your boxes but could possess your most desired qualities.
Putting together a strong job description will help you later in the hiring process when you need to create a work agreement.
Where to Find a Nanny
When hiring a nanny, a placement agency in your area will already have a pool of qualified applicants you could choose from, which can cut down on the time you need to find a good nanny. There are also online job sites that will have a large collection of candidates, but you will spend a lot of time sorting through unqualified job seekers to find someone to interview.
Keep in mind that families that go through an agency rather than a website when hiring a nanny often find a better-quality nanny, one they'll keep for longer, and they'll spend less time finding a match.
The agency's placement fee may well be worth the investment to save yourself much of the time and hassle in getting a nanny you like and will want to retain.
You can also ask friends, neighbors, family members, and work colleagues if they know anyone who would be a good fit for your position. Local parent groups and message boards are also places to post your job.
Review Applicant Resumes
A nanny's resume should include a list of families they've worked for and dates of employment. It may also show education, certifications, and related experiences like jobs they worked in a daycare center or school. Take your pool of applicants and cut it down to less than 10 viable candidates. Again, they likely won't be perfect but have enough qualifications to be considered for your position.
Begin Screening Nanny Candidates
When screening candidates, start with a phone call so you can get some sense of their communication skills and professionalism. A video call through a service like FaceTime or Skype can also work for the screening process.
Ask questions about their experience, why they are interested in your position, what they're looking for in a job, and other questions to get a sense of their fit for your opening. You should also discuss working conditions. Let your applicants know if you have pets and describe your house and property. If your nanny is expected to drive your children, let them know if you will provide a vehicle or expect them to use their own.
Your call screening should knock your list of candidates to four or five.
Meet for Face-to-Face Interviews
Interviews don't need to be conducted in your home. You and your candidate may feel more comfortable meeting in a public location like a coffee shop.
Prepare for your interviews by reviewing our list of 40+ Interview Questions to Ask Your Next Household Employee. This will help keep your interviews on track and make sure all your questions and topics are addressed. Plus, when you ask the same questions to all candidates, you'll get a fair and accurate comparison. Ask open-ended questions and let your applicants do most of the talking. This is your opportunity to learn more about the candidate.
As well as getting answers to your questions, you're looking for professionalism, temperament, and communication skills. When discussing discipline, education, and child-raising, make sure their views align with yours. Nannies also need to be reliable so ask how they will get to your home. Do they have a car, or will they rely on public transit? What will their commute be like?
Invite Your Best Nanny Candidates to Your Home
After your initial interviews, invite the best two or three candidates to your house. They will get to meet and interact with your children. Does the candidate seem comfortable in your home? How are they with your children? Are they polite, caring, and professional? Do they seem engaged with your children? Watch and facilitate interactions then give them space. Try to observe or listen in from another room.
Check References
If you've narrowed your job search to one or two candidates, you can start checking their references. A nanny should provide names and contact information for former employers. References should not be relatives or friends of your potential hire. When speaking with a past nanny family, ask them about your candidate's reliability, communication skills, performance issues, and handling of certain responsibilities. Confirm the dates when the nanny worked for the family. They should match her resume.
A placement agency will likely verify references even before considering a candidate for your position. However, you may still want to talk with past families. They may be more open and honest when talking to another family.
Conduct a Background Check
A background check when hiring a nanny is one of those vital steps you don't want to skip as you vet a candidate for your position. A background check may not uncover all red flags but could provide information that will disqualify a candidate from consideration.
Background checks should include:
Driving record
Social security
Credit history
Criminal convictions
Drug testing
Sex offender registries
Your candidate's professional licensing and higher education degrees should also be verified.
Check out your candidate's "digital footprint." This would include a Google search as well as popular social media sites. You could find provocative or inappropriate images, evidence of drinking or drug use, disparaging words about a previous employer, or discriminatory comments that would lead you to reject a candidate.
On the other hand, you could evidence that supports their job qualifications, a professional online persona, or a personality that fits your family.
Pick a Candidate for Your Nanny Position
The references and background check on your preferred candidate come back with no red flags. She checks all your boxes and you're ready to make a hire. You still need to feel comfortable with this person coming into your home and looking after your children. What does your gut tell you? Resolve any lingering doubts before making an offer.
Remember you're not hiring someone to be your friend. Often, families and their nannies grow close just by the personal nature of the work. However, you're hiring a professional caregiver and that is your top priority.
Extend an Offer
If everything checks out with your desired candidate, make a formal offer. Confirm hours, schedule, and pay rate. Your hourly rate should be based on gross pay, which is the total amount your nanny will make before taxes and other deductions are taken out of their pay. If your nanny wants to negotiate her pay rate, always talk in terms of gross pay. This will give you a sense of your employer tax obligation instead of having to "gross up" your nanny's net or take-home pay.
Prepare a Work Agreement/Nanny Contract
If you put together a detailed job description, you can use it as the basis of your work agreement. Be clear on duties and responsibilities to reduce the likelihood of issues and misunderstandings. A work agreement should include:
Hire date
Work hours and schedule
Duties
Wages
Pay schedule
Benefits
Paid time off, sick days, and paid holidays
Reimbursements (gas, mileage if they are driving your children while on the job)
Time frame of employment (if a temp job)
Give your nanny time to review the work agreement and answer any questions. Then you both should sign the agreement and have it in place before their first day on the job. A work agreement can be revised as time goes by and the fundamentals of the job change. Just remember that you and your nanny need to sign off on any revisions.
Take Care of Paperwork and Nanny Taxes
As an employer, you'll need to get a federal employer identification number (EIN) and file a new hire report with your state. Your employee will need to complete Form I-9 to prove their identity and authorization to work in the U.S.
How you will manage payroll and nanny taxes? You can do this yourself, have your accountant handle it, or sign up with a nanny tax and payroll service. If you're doing this yourself, be aware of federal and state tax and payroll laws so you remain compliant and avoid possible fines and penalties.
Finally! It's Your Nanny's First Day.
The worst thing you can do is walk out the door as soon your nanny arrives on her first day. The first few days are critical to a successful relationship for you, your nanny, and your children. You may want to schedule some time off work, so you can introduce your nanny to neighbors, school personnel, coaches, music lesson teachers, and others with whom she may interact while working for you. Take your nanny on a tour of your community pointing out grocery stores, pharmacies, parks, playgrounds, libraries, urgent care centers, pediatrician's office, and more. These are places your nanny may need to take your child while on the job. Go over safety procedures, emergency contact information, and household rules on screen time and visitors. Review the vehicle she will be driving if you're providing her with a family car to transport your children.
Hiring a Nanny Takes Time and Effort
Determining who will care for your children while you work is an important decision and not one to be rushed. The time and preparation you spend during the hiring process will pay great dividends down the road with a confident, comfortable, and engaged nanny caring for your children.
Want More on Hiring a Nanny?
How to Hire a Nanny: Your Complete Guide to Finding, Hiring, and Retaining Household Help by GTM Payroll Services Founder and CEO Guy Maddalone is a must-read for anyone who has hired or plans to hire household help. The valuable guide lays out the roadmap and gives practical advice for legally hiring household help, determining wages, managing payroll and taxes, and much more.
Guy, widely recognized as the nation's foremost household employment expert, relies on his 30 years of experience in the payroll and employment services industries to bring solutions to the pressing issues facing household employers.
Learn more about How to Hire a Nanny, how to purchase the book, and download two free chapters.
Watch Our Video: Hiring a Nanny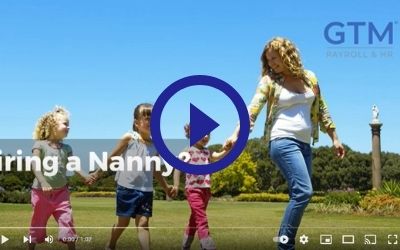 Download: Your Guide to
Hiring a Nanny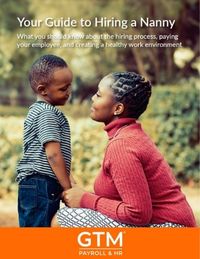 Download Free Chapters
How to Hire a Nanny