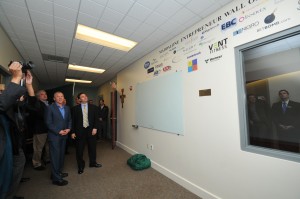 Enabled by support from GTM Payroll Services Founder Guy Maddalone '89, the wall is designed to recognize the entrepreneurial success of Siena alumni and inspire current students.
Loudonville, NY – From clean energy, biomedicine and nanotechnology to IT, software, media and entertainment, alumni of Siena College have started businesses in nearly every industry. Today, Siena's Stack Center for Innovation and Entrepreneurship unveiled a new addition that is designed to highlight the success of those entrepreneurs and to inspire its students to become the business leaders of tomorrow.
The Maddalone Entrepreneur Wall of Success, made possible through the generous support of Guy Maddalone '89, founder and CEO of GTM Payroll Services, is spearheaded by and located at the Stack Center. It displays the logos of companies launched by Siena graduates, with an inaugural class featuring more than 30 firms in fields ranging from high tech to traditional.
Located both inside and outside the Stack Center, as well as online, the wall will grow to showcase additional companies in the future. It is designed to provide a highly visible platform to highlight Siena graduates who have successfully launched their own businesses, and to inspire students by letting them know that they can follow in the footsteps of those who have gone before them.
"Siena College has a proud history of educating innovative, ethical and successful entrepreneurs who have made tremendous contributions in helping to grow the economy in the Capital Region and beyond," said Michael J. Hickey '83, Executive Director of the Stack Center and Executive-in-Residence at Siena. "We are most grateful to Guy Maddalone, who epitomizes the very best qualities of the Siena entrepreneur, for making it possible to establish this wall as a means of saluting our successes and inspiring our students."
"My Siena College experience has been an important cornerstone of my life, both personally and professionally, and continues to be through my involvement with the Stack Center," said Maddalone. "I am pleased to have the opportunity to 'give back' through the establishment of the Maddalone Entrepreneur Wall of Success, which I hope will serve as motivation for Siena's students on their path to becoming top-level executives and business leaders for the next generation."
The inaugural group of companies featured on the Maddalone Entrepreneur Wall of Success is wide-ranging and diverse. It includes firms specializing in technology fields such as clean energy storage, solar energy, nanotechnology, and biomedical and pharmaceutical research and management; online and digital fields, including information technology, software and services, and human resources management; and traditional fields, including media, entertainment, recreation, real estate and investment services.
With nearly three decades of experience in the payroll, human resource, and employment services industry, Maddalone's first entrepreneurial venture occurred while a student at Siena and was named Action Nursing Service, which began with the placement of home healthcare and eldercare services before expanding to include nannies and other household staff. In 1991, he founded GTM Payroll Services, a proven leader in payroll and human resource management for both business and household employers. GTM was named to the Inc. 5000 list of the nation's fastest-growing companies for seven consecutive years (2007-2012).
A graduate of Siena College with a bachelor's degree in Accounting, Maddalone remains active in the college community as a member of the Siena College Board of Advisors. Additionally, the Guy '89 and Diane Shea Maddalone '89 Scholarship was established by Guy and his wife, Diane, to assist Siena in providing the education for students exhibiting entrepreneurial interests and financial need.