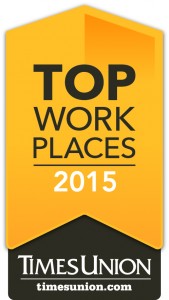 CLIFTON PARK, NY – (April 27, 2015) – GTM Payroll Services is pleased to announce that for the third time in three years, it has been selected as one of The Times Union Top Workplaces.
The Top Workplaces are determined based solely on employee feedback. The employee survey is conducted by WorkplaceDynamics, LLP, a leading research firm on organizational health and employee engagement. WorkplaceDynamics conducts regional Top Workplaces programs with 37 major publishing partners and recognizes a list of 150 National Top Workplaces. Over the past year, more than 5,000 organizations and 1 in every 88 employees in the U.S. have turned to WorkplaceDynamics to better understand what's on the minds of their employees.
GTM earned this high honor from its own employees giving GTM high marks for employee satisfaction, team effectiveness, employee alignment and other key attributes that contribute to a healthy and positive work environment.
"As GTM continues to grow, we realize the importance of maintaining our great work environment and positive culture. This award demonstrates our continued commitment to this goal and we are honored to know that that our employees believe we are being successful," said Anne Johnson, GTM Human Resources Manager.
The Times Union published the complete list of Top Workplaces on April 27th. For more information about the Top Workplaces lists and WorkplaceDynamics, please visit www.topworkplaces.com and www.workplacedynamics.com.